INTEGRITY – TRANSPARENCY IN NEW CONSTRUCTION – GENERAL CONTRATOR
Home Construction – General Contractor – New Construction – Craftsmanship Done Right
My name is Geof Rondeau, president of Rondeau Construction Inc. We understand that you have many contractors to choose from when you're looking to remodel or construct a new project. We are very experienced in new home construction, new construction and general contractor. When considering quality, price, communication, and time of completion, I confidently assure you that we will be the best-valued company you can choose. I have been in the construction industry almost 30 years and have personally performed most every trade necessary in building and remodeling homes.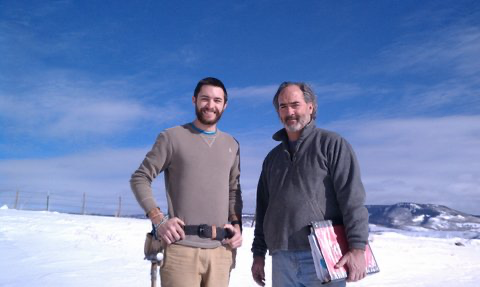 I received my General Contractor's license in California in 1989. In 1992 my family and I moved to Colorado where we continue to live and work. I am a licensed, insured and bondable general contractor and work with the highest level of integrity.
Rondeau Construction Inc. maintains a low overhead and works with great subcontractors. We are a family run business managed by my son, Daniel and I. We specialize in new construction, new home construction, home construction, general contractor, remodels, and repairs. We can design, work with your designer, or connect you with an excellent architect. We normally build exclusively to mountain locations but we have experience and confidence to work in any area.
We hire local contracts that only meet our hight standards. We put our name on it so there is no other way of doing business. We are so fortunate to live to live in the same place we create these amazing houses. The views will take your breathe away for so many reasons. Contact us now for a quote and let us help you accomplish your home dreams. We also have a huge visual inventory of homes we have built over the years. Check them out on the HOME page and also see our real testimonials on this page.
We also have a 5 star rating on Google reviews. We take our clients seriously and they appreciate the love we give every new home construction or general contractor job we do!
New Home Construction
We build energy efficient and sustainably-conscious new home construction that flow both visually and functionally with the environment around them. We believe our clients deserve proven success when looking for a contractor. From the smallest home improvement project to million dollar construction projects, Rondeau Construction, Inc. has established a strong track record, delivering beyond customer expectations. When you select Rondeau Construction, Inc., you can expect the best in value and craftsmanship – on time and on budget. We focus on the details, so you don't have to. We look forward to working together with you soon!
Please check out all the beauty that is Grand County. it is amazing that weork here and also live here. Grand County Website.
Geof Rondeau, President
Brad & Allison
We hired Geof Rondeau to build our home, and working with him was a pleasure from beginning to end. He was a great communicator and delivered a quality product that we are very proud to call home. He prepared us from the start with clear expectations regarding the timeline and details of our build. We were also fortunate to be able to tour a house he had recently completed to see the quality of his work firsthand.

Throughout the construction of our home, he maintained regular contact through text or email which was so helpful managing the endless decisions and supplying us with confidence and peace of mind. He was a great listener and able to discern which features of the house and grounds were relatively more important to us and gave them special attention. In this vein, he helped us improve upon several design details that came up during the construction phase of the home and exceeded our expectations with the final solutions.

The finish work by Geof's team was outstanding and he was very conscientious regarding completion of all the final touches, always ensuring we were happy with the final product. Where there may have been opportunities to cut corners, Geof never did. He clearly takes pride in his work and it shows. In summary, we would highly recommend Rondeau Construction and would look forward to the opportunity to work with Geof again in the future
EUGENE & SARAH KENNEDY
Geof was the builder of the home we purchased in 2008 in Coyote Creek in Tabernash, Colorado. The home was nearing completion and needing plumbing, appliances, carpeting, painting and finish woodwork. We had a number of upgrades and changes and found Geof to be extremely cooperative and easy to work with. "Within a year we contracted Geof to move one window and add another to improve the living room view. Geof designed and completed the project to our complete satisfaction at a reasonable cost. The new windows greatly enhanced the house. This year we contracted with Geof to complete a finished walkout basement. Geof is just completing this project to our total satisfation. During the project there were a number of changes that we wanted to be made. Geof was able to accomidate our wishes. The basement was finished to completely match the rest of the house and is a terrific/ private space, adding a bathroom, bedroom, and recreation room to our Tabernash home. "We found Geof to be honest, dilligent and reasonably priced. All the work Rondeau Construction performed for us has been done to our total satisfaction. We highly recommend the use of Rondeau Construction for your building needs
DENNIS W. DRIVER, PROFESSIONAL ENGINEER
I thought Geof was very easy to work with, skilled at solving problems, and communicating with me those solutions. Should I build a house in Grand County, I would not hesitate to hire Rondeau Construction as the prime contractor. Attached are before and after pictures
Steve Lugwig
Wayne Aspinall Federal Building was originally built in 1918 with and addition put on in 1938. It houses Grand Junction offices of the IRS, Army Corp of Engineers, US Senate office, the Federal Courts, US Marshal office, and FBI. When the GSA wanted to renovate and modernize this historic building, they hired The Beck Group out of Denver CO. One of the main goals of this project was to blend the historic elements such as the oak doors and baseboards, wood and terrazzo floors, plaster ceilings with the modern energy efficient air conditioning, lighting, and controls. Though there were many renovations thru the years; the building manager had managed to keep many of the original oak doors. Many of these had the raised panels removed for installation of louvers or the glass panels had been replaced with other materials. Beck hired Rondeau Construction of Granby CO to rebuild historic doors, replicate historic doors, replicate and install historic baseboard and casing. Rondeau also rebuilt many of the historic windows that had been missing trim or rotting sills.
Dennis Furlong
I Purchased a home in Coyote Creek from Geoff Rondeau in July of 2008. I bought the home because of it's quality construction and I liked the design inside and out. "I have been completely satisfied with Geoff's response to any of the very small issues that developed after the sale. He has been reliable and always responded promptly to any request I made. After almost 5 years I am very satisfied with the home and the location.
Bruce Block
I highly recommend Geof Rondeau and Rondeau Construction for excellent workmanship and service to any issues in building residential housing. He has built a duplex a few of years ago and is now building another duplex which is in progress and due to be complete in June. This fact in itself is a recommendation. The original project was produced on time and within budget with fine workmanship and a special attention to finishes and detail. We find consistent quality in his product. Minor follow on issues have been completed in a timely and efficient manner. I believe Rondeau Construction is a great choice for specialized home building and exceeds expectations.Bruce block
Bruce Block
BILL ABELKOP
I write this letter in recommendation of Rondeau Construction. I had the pleasure of working with Mr. Rondeau as the builder of our new home in Tabernash, CO. I recommend him highly and without reservation. Throughout the course of the build, Mr. Rondeau was a consummate professional, as well as, very personal and approachable. He was absolutely clear in his communication with us and was always available for questions and or concerns that we had. When presented with some of our concerns, Mr. Rondeau was always very helpful and responded quickly. Mr. Rondeau is very pleasant to work with and always willing to serve. He is a man that runs his business with great integrity and a willingness to go the extra mile in his work and service to his employees and customers. Every person that visits our home is impressed with the work and craftsmanship. It was our pleasure to work with him and would love to continue our relationship with him in the future. I highly recommend him!
David Halleck
Geof was the general contractor for a remodeling project on my condo in the summer of 2013. The scope of the remodeling involved extending and enclosing a loft area into a 3rd bedroom as well as opening an enclosed area creating a new loft. Geof and his team are very knowledgeable and connected in the Granby area and were extremely helpful in getting through the building permit process. The renovation was very quick and Geof kept me informed of everything that was going on through the entire process. I would definitely recommend using Rondeau Construction for any project in Grand County. Geof's services as a general contractor were invaluable, and I am extremely pleased with the final result
BRUCE & CARI J. BLOCK
Geof built two units for us in Tabernash, Colorado and we have been very pleased with the quality of his work, his attention to detail and performance to schedule and costs. Geof has gone to great lengths with personal attention and concern for us as his customers. "If we build another home or unit in Colorado we will definitely use him again as our contractor. Also we would recommend Rondeau Construction for anyone building in the Colorado area who wants high quality workmanship while keeping the costs under control.& We are happy to answer any questions regarding the work he has done for us.
Marshall Gile
Geof was a delight to work with. He made every effort to understand our needs and desires throughout the design and construction process. There were no surprises, as he kept us well informed at all times. We would be happy to work with him again if we ever decide to build in the area. We are happy to recommend him for construction projects, whether they are remodels or new built homes.
Tony & Tina
We are writing to recommend the excellent work of Rondeau Construction. Having been our first experience working together we found our customary initial cautiousness quickly turning to confidence. Throughout the course of construction on our mountain home in Tabernash, Colorado, Geof displayed a high level of professionalism, experience, dedication, attention to detail and commitment to quality. In addition, his contagious optimism and professional demeanor are invaluable.We can truly say that Rondeau Construction is a company with great integrity, is extremely dedicated to their customers and their work, and is entirely the best contractor that we have ever worked with!
Mike Blair
Working with Geof Rondeau has been a pleasure. He set clear expectations regarding timing and costs and maintained regular communication regarding progress throughout the project, always willing to spend time walking through the details. He is very collaborative and listens to the owner's desires, enabling him to offer suggestions to improve the design and functionality of the home. I enthusiastically recommend Geof for anyone building a home in Grand County.